3Flex is a high-performance adsorption analyzer for measuring surface area, pore size, and pore volume of powders and particulate materials. Standard methods or user-adapted protocols can be used to characterize absorbents, catalysts, zeolite MOFs, APIs, fillers and a wide range of porous and non-porous materials. 3Flex is ideally suited for analyzing gas or vapor adsorption of materials with micro porous (<2 nm) and meso porous (2 to 50 nm) and provides excellent data accuracy and resolution.
3FLEX Is an automatic device that allows the measurement of physical adsorption and chemical adsorption and has the most high accuracy and resolution.
Different samples can be measured on the device: powders, foams, solids.
The size of the sample is up to a diameter of 1 cm.
The porous distribution (from non-porous to micro-porous to meso porous) and chemical activity of the sample can be measured.
Measurements can also be performed at high temperatures, up to 1100oC with high and precise cooling rates, and also at temperature of liquid nitrogen.
Different gases can be used for measurements  : He, Kr, CO, CO2, H2, N2
The samples that can be characterized by 3Flex include: drugs, ceramics, adsorbents, activated carbon, carbon black catalysts, medical implants, electronic materials, cosmetics.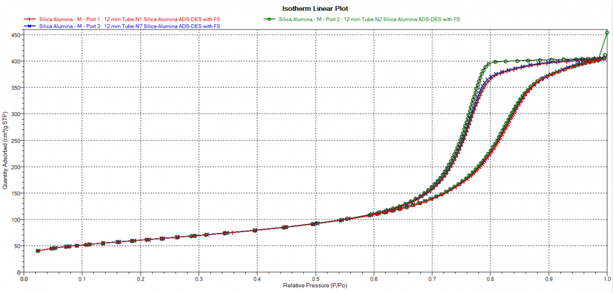 Instrument specifications:
3Flex Physisorption Only
3Flex Chemisorption
Temperature Control
45 °C, ±0.05 °C with 3 strategically placed RTDs
45 °C, ±0.05 °C with 3 strategically placed RTDs
Adsorptive Gas Inlets
6
12 standard; optional up to 16
Vapor Sorption Option
Standard ports 1 and 2, optional port 3 with heated vapor source
Standard ports 1 and 2, optional port 3 with heated vapor source
Furnace
N/A
Ambient to 1100°C

Programmable from 0.1 to 50 °C/min

Degas
3 in situ, 6 additional with SmartVac Prep
3 in situ, 6 additional with SmartVac Prep
Analysis Range
1.3 x 10-9 to 1.0 P/P0
1 x 10-6 to 900 torr
Available Micropore Ports
up to 3
up to 3, one port dual purpose chemisorption and physisorption
Dosing and Evacuation Control
Proprietary Servo
Proprietary Servo
Roughing Pump
4 stage diaphragm
4 stage diaphragm
Krypton Analysis
Standard 1 port, optional up to 3 ports
Standard 1 port, optional up to 3 ports
Analysis Gas Per Sample
Ability to use up to 3 gases concurrently, one probe gas on each port
Minimum Measurable Surface Area
Standard 0.01 m2 /g 0.01 m2 /g Krypton 0.0005 m2 /g 0.0005 m2 /g